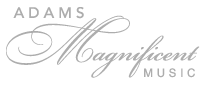 Sophisticated Flute and Harp Music for Holidays, Weddings and Special Events in Chicago & Evantson.
Welcome to Adams Magnificent Music.
This site requires the Flash Player plug-in.
Follow this link to download.
Monty and Phyllis Adams are Adams Magnificent Music - Sophisticated Flute and Harp Music in Chicago and Evanston. Adams can provide the perfect musical ambiance for your wedding, reception, dinner or special event.
What We Offer
Solo harp or flute and harp without amplification are ideal combinations for intimate and small receptions. For larger functions, Adams Magnificent Music provides a digital wireless sound system – always maintaining the perfect balance for your guest's comfort. In addition, they frequently add instruments such as a violin, cello, bass and rhythm section, all the way up to a symphony orchestra when more diverse musical sounds are desired.
Who We Are
Nationally recognized for their CDs Opera by Request and Universal Peace, Monty and Phyllis Adams have been featured on NPR's All Things Considered and on classical radio stations around the country. They have been featured artists in live broadcasts on WFMT 98.7 FM and on WTTW Channel 11's Sunday Evening Club. Monty and Phyllis were also featured performers at the 25th National Flute Convention. Both Monty and Phyllis have performed as substitute and extra players in the Chicago Symphony and have appeared as concerto soloists with many Chicago area orchestras. Monty was the Principal Flutist of the U.S. Air Force Band and Orchestra in Washington D.C. and in that capacity performed across the country and at the White House for former presidents Carter and Reagan. He can also be heard on several U.S. Air Force Band recordings under Col. Arnold Gabriel.
Monty is currently on the flute faculty of the Music Institute of Chicago. Phyllis has been Principal Harpist for many summer seasons with the Milwaukee Symphony and was the Staff Harpist and Artistic Consultant for 22 years with Venus Harps of Chicago. In that capacity, she also produced The World of Harp Music – a program on Chicago's Classical Radio Station WNIB 97.1 for six years collaborating with Chicago's beloved radio host, Miller Peters. Phyllis was the lecturer in harp performance for five years at Illinois State University. As a student, she was the second harpist in the Louisville Orchestra. Both are graduates of the Northwestern University School of Music where Monty was twice awarded the prestigious Eckstein Prize as well as the Nichols Award for academic excellence.
Monty has been a student of Kenneth Emery, James Pappoutsakis, Julius Baker, Albert Tipton, Harold Bennett, Donald Peck and Walfrid Kujala. Monty also studied conducting with John Paynter and Paul Alioupolis at Northwestern University. Phyllis has studied with Gloria Agostini, Alice & Jeannie Chalifoux at the Salzedo Harp Colony in Camden, Maine, Edward Druzinsky at Northwestern University, Mary Jo Green, Taka Kling, Karen Lindquist and Carol McClure.
Where We Have Been
Flutist Monty Adams and Phyllis Adams, Harpist, began their collaboration in 1979 at the Roof Terrace Restaurant in the Kennedy Center for the Performing Arts, Washinton, D.C.
Instantly recognized for their fresh, innovative style and repertoire, they were called upon to perform at many galas, corporate gathering and other prestigious events honoring many heads of the U.S. government, General Omar Bradley, royalty from around the world such as the Queen of Morocco and other celebrities including Beverly Sills and Frank Sinatra.